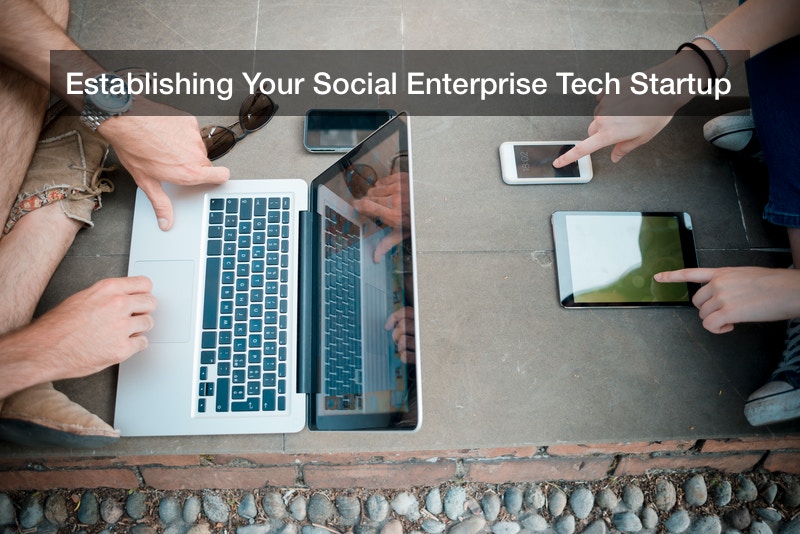 The tech world is in the middle of a renaissance right now. Technology is ever evolving and helping us in our daily lives. New technologies and innovations are constantly being introduced. Some become so useful that we often wonder what we did without them. Because of this fostering environment, new tech startups are on the rise. The introduction of the social enterprise tech startup has been prospering. With over 400 million budding entrepreneurs worldwide, everyone is trying for a piece of the pie. Some will succeed, but most will not. The difference can come with a solid starting base. Rely on new budding technologies for future success. Some of these technologies are constant focal points in our lives. Consider some of the ways these technological advances affect us and how they continue to shape us.
When establishing your startup, it is important to have a concise plan of action going forward. "When you fail to prepare, prepare to fail," is an often uttered phrase by many coaches. It can, however, apply to the startup world. Although some failures are inevitable, many startups fail due to some poor planning. It is important to recruit some quality employees for your company. It might be difficult, but sometimes you may have to cut some ties. We all picture startups as a couple of buddies working out of the garage. If your friends do not have the technological or business savvy to make a contribution, they may be more of a hindrance than a help.
Networking is a key factor in your startup. Converse with experts in the field and pick their brain for tips and advice. They can also help direct you to some quality employees that can help your startup succeed. Once you have your core group, you can brainstorm and research. Keep up to date on all industry trends. Consider subscribing to some tech publications.
Business support
Businesses, both large and small, are supported by developing technologies. When you are running your own business, technology is a constant helping hand. An online support system is vital to a company's success. Companies put their entire business platform online and will use it to satisfy all the needs. There are many key steps to take for your social enterprise tech startup.
One of the ways your company is supported through technology is computer technical support. No matter how advanced a technology is, they are all susceptible to the occasional breakdown. When this happens, you will want it remedied as quickly as possible. The longer it goes on it will have a negative effect on your business. Production will slow down, and it could result in lost funds. With a quality computer technical support system in place, you will be able to resolve the issue in a matter of minutes. It is important to have a good working relationship with your tech support company.
Make sure to research extensively when searching for the right one. Survey other companies and online reviews for recommendations. Make sure that the company is reliable and trustworthy. Many companies lament the incompetence of a less than stellar tech support team. Save yourself some headaches and conduct in-depth research beforehand. This can make all the difference for your social enterprise tech startup.
Payroll
Payroll is at the core of every efficient business. You want to make sure that every employee is compensated justly for their labor. Mismanagement of the payroll system can lead into a mess of trouble. Your company is vulnerable to lawsuits and it will cause unrest between workers. When there is a breakdown in the payroll processing, it can be a significant setback for the company. Employees rely on their paycheck and most can ill afford to go without one. It will leave a black stain on the reputation of your social enterprise tech startup.
Finding a quality payroll processing company should be a major priority. You should be diligent in your research. Find out which payroll services have the sterling reputation that you desire. When surveying the companies, you should have a collection of questions to ask them. Ask them about their tech support and their plan of action when breakdowns occur. You want open and honest communication between both parties. Reliability is a major component in the technological world.
Investment apps
In this digitized world, our lives are increasingly lived online. Our phones are filled with numerous apps to help solve any daily issues we may have. Having all this information right at our fingertips is extremely convenient. In the investment world, apps can be a lifesaver. Following are some of the best apps for investors.
Wealthfront is a great investment app for the low-maintenance investor. In this app, your money is stored in a portfolio that consists of low-cost exchange-traded funds, or ETFs. It uses a robo-advisor system. Wealthfront uses software that will automatically rebalance your portfolio on an as-need basis. There is .25% account management fee, but it can be waved. If you recommend a friend who also opens an account, both of your fees will be waved for the first $5,000. This is a great choice for any social enterprise tech startup.
Another popular robo-advisor based app is Acorns. With Acorns, users will link a debit or credit card. Purchases you make will be rounded up to the next dollar. The change is then invested in a portfolio that consists of BlackRock and Vanguard ETFs. Over time the savings build up without much work on your part. Acorns Core is a standard investment account and Acorns Later is an individual retirement account, or IRA.
For anyone looking for a wide selection of investment options, the E-Trade app is your best choice. This app gives you access to an overwhelming amount of stocks, options, ETFs, and more for your investment options. It also includes analysis from several of the top news and marketing analysis services. You can set up alerts to keep abreast of the stock activity. Having the right investment app is key for your social enterprise tech startup.
Choosing the right equipment
When establishing your social enterprise tech startup, you will need equipment of the highest quality. You want technology that can run efficiently. The key is finding the right equipment sales. With the right ingenuity and research, you can find the right equipment at an affordable price.
In order to find the right equipment, you first need to budget for it. Make a list of all the equipment you will need to function. You can then allocate the funding for each piece such as, computers, tablets, and VoIP. There are available apps and resources that you can use for cost estimation. The industry that your startup is in will dictate your cost estimate. You do not have to choose the most expensive. Choose equipment that can most meet the needs of your company.
Prioritizing your startup's needs is an essential key. Some pieces are absolute necessities, while others are of lesser importance. Depending on your budget, you can afford to cut some costs in the less important areas. Another step to take would be the hiring of a consultant. They can help you decide what you need. If your budget is rather tight, you're not out of the woods. Consider equipment rental for those pieces that will not be used often. It can be just what your social enterprise tech startup needs.
Repairs
As with any piece of equipment, technology can always break. That is why you need quality repair jobs. Tool repairs are unique areas of concern. Old and downtrodden equipment is susceptible to breakage. While it may be cost effective to use something older, it is important to know if that's the right path. If you have poured more money into fixing your tools, it is not a wise investment. You may not need the brand new, must-have tool, but you also need something more than a shoddy piece of equipment. Pertinent research into the different technological tools is essential.
iPhones
The iPhone is one of, if not the most, innovative technological advancement of the 21st century. You'd be hard pressed to find a startup that does not use this piece of technology frequently. Information about pretty much every conceivable topic is right at your fingertips. You can access anything in a matter of seconds. This is a highly valuable tool for every social enterprise tech startup. Unfortunately, like any machine, accidents do happen. A simple drop or spill could leave your iPhone out of commission for at least a few moments. There are many common home remedies for iPhone repairs. One of the most common is the rice trick. After a phone has been dropped in water, you can place it in a bowl of rice. The rice will soak up the moisture after a few minutes and your iPhone is hopefully as good as new.
The iPhone repair business serves a major need. With so much of our lives being confined to this pocket-sized piece of technology, we want it constantly at our disposal. When it's broken, you will want it working again as quickly as possible. There are a number of businesses dedicated solely to broken iPhones. While a shattered screen does not completely disable the device, it does produce an annoyance. It will be much more difficult to read. Unfortunately, some iPhone repairs are not as simple. If your iPhone is malfunctioning, scouring the internet is a great option. Whatever happened to your phone has most likely happened to someone else's. The company website should have a technical support page that can help you troubleshoot and solve the issue.
Art Design
The art design and branding world remains an emerging and buzzworthy social enterprise tech startup. We see signs, logos, and other forms of marketing the world over. Companies are looking for new and innovative ways to get their name out there. The failure to be remembered is often the case for a startup's failure. There are many startups out there to help meet all the branding needs and it is important to choose the right one.
For local small businesses, they may not have the budget for a large-scale advertising campaign. There are, however, many ways they can get their name out there. Screen printing on clothing is an effective way to generate organic marketing. Someone wearing your shirt or hoodie while out and about will expose your company to numerous potential customers. There are many ways to market your company. T-shirts, hoodies, signs, and custom banner printing are all effective forms of advertising, especially for small businesses. This can be extremely valuable for your social enterprise tech startup.
The design is a key component of the screen print process. You will need to choose the right aesthetic for your logo. It should be easy to read and appealing to the eye. You will want it to immediately catch the eye of the consumer. In marketing, less is more. Adding too much text will frustrate the viewer and they will likely ignore the advertisement. Color is also an especially important part of the design. You will want colors that do not clash. This will make it difficult to read.
Color also helps to create the right tone. Red is an action color. Choosing red often means that you want customers to take action with your product or service. Red is popular among fast food brands. Green is an earthy and natural color. It can also help create symbolism with trust. Financial and legal companies often choose green. Black and gold signify elegance and sophistication. They remain popular color choices for a limousine service or upscale restaurant. It is best to consult with a design expert to help choose the best design for all of your advertising.
In this day and age, technological advancements are at the forefront of society. Engineers are working around the clock to develop new advancements in technology. It is certainly an exciting time in history. When establishing your social enterprise tech startup, it is important to have a distinct course of action. Consider some of these tips and more during the process.



Keywords: about social entrepreneurship, importance of social entrepreneurship, social entrepreneurship funding, social impact foundation, best social enterprise ideas, best social entrepreneurship ideas, best social impact, can social entrepreneurship succeed, cause entrepreneur, entrepreneuriat social entreprise, examples of social entrepreneurs in ghana, impact startup accelerator, inspiring social entrepreneurs, is social entrepreneurship good business, microsoft social impact, mission driven companies nyc, social business news, social enterprise examples us, social enterprise project, social enterprises in the us, social entrepreneurship activities.