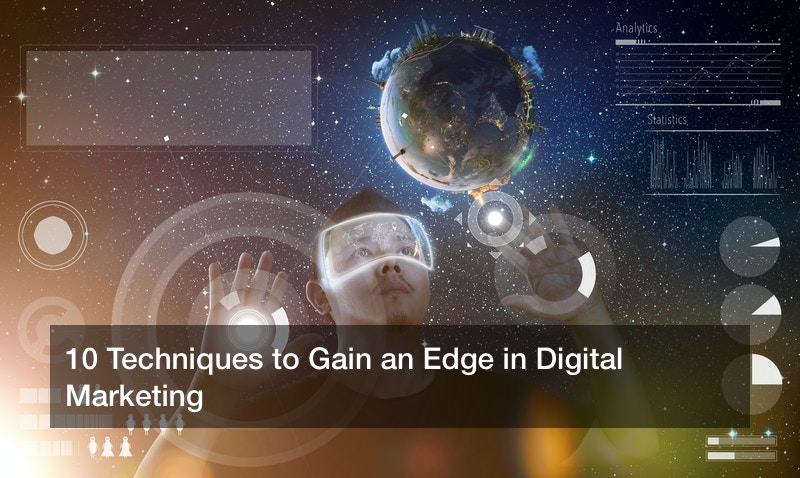 Every business needs a digital marketing strategy. The average consumer spends over six hours a day online and more adults now get their news from social media than newspapers. Without a digital marketing strategy, your company's message may miss a large segment of the U.S. population in the young adult demographic.
One of the key factors in developing and implementing a digital marketing strategy is hiring a digital marketing agency. A creative digital marketing agency is essential to a digital marketing strategy for a few reasons:
Digital marketing changes quickly: The cost, technical requirements, and content restrictions change often and a creative digital marketing agency stays on top of these changes.
Technical expertise: Using digital marketing tools requires a deep understanding of how they work. For example, a creative digital marketing agency has expertise in the algorithms used by search engines and social media platforms to select and serve your messages to users.
Knowledge of trends: When new tools become available, a creative digital marketing agency can determine if they fit your needs and how you can use them effectively.
Here are ten techniques that will help you gain an edge in digital marketing:
Understand Your Customer
To develop a digital marketing strategy, a creative digital marketing agency will research the digital habits of your customers so that you can work together to develop a targeted strategy.
Digital marketing channels are so vast (and expensive) that you cannot use them all. Instead, you need to know how your customers use them to find the products and services they need. Then you must find a way to capitalize on that use to deliver your marketing message. In other words, no matter how much you spend on digital marketing, there is no return on investment (ROI) if it does not reach potential customers.
For example, a building manager who needs help with elevator modernization would likely use a search engine, business networking sites, and professional society member listings to identify possible contractors. Contractors who miss these digital marketing channels may miss out on the invitation to bid on the job.
Contrast this example with a company that sells consumer goods like housewares. The housewares company would use different digital marketing channels to reach its customers than the contractor would because its customers use different ways to find those products.
Understand Your Competitors
The world has approximately 400 million entrepreneurs and your competitors can come from anywhere. One underappreciated aspect of digital marketing is that you can figure out how your competitors are reaching your pool of potential customers. For example, competitive intelligence companies can reverse engineer the keywords your competitors have bought for their pay-per-click (PPC) advertising and search engine optimization (SEO).
This information can help you to:
Avoid buying the same keywords
Choose alternative, but popular, search terms for your keywords
Guide your customers toward your preferred keywords through your advertising
Competitive intelligence can also reveal how your competitors use digital marketing to promote their products. For example, intelligence may show that your competitors use social media influencers and product placement in online videos to promote their products. This may provide a creative digital marketing agency with a new path for promoting your products that you might not have considered previously.
Design a Custom Website
While websites designed from a template are less expensive, custom websites are very power digital marketing tools. Your website is your online presence. In the same way that you would customize your physical office to reflect your company's brand, you should customize your online "office" to reflect your company's brand.
Custom websites developed by a creative digital marketing agency can contain many features to help you serve your customers and project your company image:
Custom visuals: Most digital marketing agencies provide graphic design services and video production services. These services can give your website a unique look that distinguishes you from your competitors.
Customer portal: Customer portals are an excellent way to maintain a connection with your customers and increase your revenue. For example, a patient portal on a dentist's website can be used by the patient to schedule appointments, receive reminders, and make payments.
Free content: Customers love to receive free content like e-books, blog articles, trial software, and how-to videos. Better yet, your content will be indexed by search engines and guide potential customers to your website.
Complete control: Unlike templates, custom websites offer you complete control over the appearance and function of your website. If you do not like the position of a graphic or the size of a menu, a website designer can tweak a custom website in ways that a template website cannot be tweaked.
React Quickly
One of the greatest benefits of digital marketing is that you can react quickly when events effect your business. Digital marketing messages can be blasted out nearly in real time. This gives digital marketing an enormous advantage over traditional marketing channels like print advertising, direct mail, television, and radio.
To take just one example, businesses reacting to the COVID-19 (coronavirus) pandemic had very little time to plan before lock-down orders and shut down advisories began. Businesses had to develop a plan and communicate that plan to their customers over the span of a few days, in many cases.
Digital marketing was critically important to both businesses that had to shut down and those that were allowed to remain open. Businesses that shut down had to let their customers know which operations had been shuttered, while also alerting them to alternatives, like phone and online ordering, that would continue to be offered. Essential businesses that remained open, like pharmaceutical companies and lab equipment companies, had to inform customers that they were still operating and how other business shutdowns might affect fulfillment and shipping.
In this example, digital marketing was a fast, safe, and inexpensive way to reach customers.
Engage with Customers
Customer expectations have changed. E-mail, online messaging applications, and social media platforms allow customers to engage businesses easily and they expect businesses to be responsive. A business risks alienating customers if it uses a social media profile to send out marketing messages but does not respond to questions, concerns, or complaints about its products and services posted to the social media account.
This is not to say that every business needs to send out dozens of tweets or timeline posts per day. However, a business should work with a creative digital marketing agency to develop a social media use policy as part of its customer service process. This allows the business and its social media team to engage with customers in a consistent manner while controlling the risk of negative publicity.
For some businesses, like an electrical wiring contractor, daily face-to-face contact with customers might reduce or eliminate the need for social media engagement. Other businesses, such as retailers, might need ongoing customer engagement to maintain top-of-mind awareness.
Integrate Digital Marketing with Traditional Marketing
As you work with a creative digital marketing agency to develop a marketing strategy, you should combine digital and traditional marketing to take advantage of the strengths, and compensate for the weaknesses, of each.
Traditional marketing, such as television, radio, print, and billboard advertising, can reach people who are not connected, such as older consumers and those with a lower income. Similarly, traditional marketing works well when a business has a highly localized customer base, such as an auto repair shop.
Businesses that need to reach these kinds of customers will often have as high an ROI in traditional marketing, like direct mail, as in digital marketing. Direct mail, for example, can be an inexpensive way to blanket an area since advances in digital printing have substantially lowered printing costs.
However, these businesses can supplement their traditional advertising with digital marketing to raise awareness, promote its brand, and reach customers who receive the bulk of their information online. A senior active living community, for example, might be less likely to reach potential residents through digital marketing than traditional marketing. But it may be more likely to reach other decision-makers, like the children of potential residents, through digital marketing. By using a creative digital marketing agency in combination with its traditional marketing, a business can ensure that its message reaches all consumers.
Use Search Engine Optimization (SEO)
SEO is a technique to guide search engine users to your website based on their search terms.
A creative digital marketing agency identifies keywords that customers use in search engines to find your goods or services.
These keywords are used in the visible text and invisible tags on your website.
When the search engine examines your site, it finds the keywords and indexes your site using those keywords.
The next time a user types those keywords into the search engine, your website is included in the "organic" search results.
The trick, however, is that common search terms are highly competitive and the organic search results may include hundreds, or even thousands, of websites. Since most search engine users do not scroll past the first few search results, appearing at or near the top of the search results can be critically important to gaining clicks.
For example, choosing generic keywords like "pump repair" might leave your website several pages into the organic search results because of the sheer competition for those keywords. A more specific phrase, like "hydraulic pump rebuild" might bring your website onto the first page, or even to the top, of the organic search results.
Hydraulic pumps are used in many large machines, typically construction machinery like cranes and farming equipment like tractors. If you work with this kind of machinery making sure that the hydraulic pumps are working properly is imperative. Get a professional to handle any hydraulic pump rebuild needs you may have.
Consider Pay-Per-Click (PPC) Advertising
PPC advertising uses an algorithm to serve up your ads to likely customers based on parameters you choose. You only pay when customers click on your PPC ad. This makes PPC marketing attractive for businesses that want to focus their marketing budgets on actionable leads.
On the other hand, PPC ads often require fine tuning by a creative digital marketing agency. Clicks are only valuable when they can be converted into sales and an ill-targeted PPC campaign can put you into the position of paying for erroneous clicks without generating sales from those clicks.
If your business sells art supplies, but your PPC ad is served up to people looking for interior or exterior house paint, you may pay a huge price for no sales. As a result, the best digital marketing agencies will monitor the campaign and adjust it if it appears to be headed off the rails.
Localize Digital Marketing
Most consumers are familiar with using a search engine to find a business "near me." However, many businesses are not familiar with how to take advantage of local searches. A creative digital marketing agency can help you promote your business using local searches.
Local searches are based on business profiles maintained by the search engines. The first step to appearing in local searches is to fill out a profile so the search engine has information to return in the local search results.
To improve your ranking, you will need to apply SEO principles your profile and your website by including the keywords searchers use. Here, a creative digital marketing agency can fall back on its core purpose as an advertising agency to identify how customers find and choose your products or services. Remember that people often search for the "best pizza near me" rather than just "pizza near me. Including review or, better yet, links to reviews, can help you appear in these "best of" local search results.
Use Digital Marketing for Free Publicity
Digital marketing can be a good way of getting free publicity through third party content. Remember that search engines return more than just websites. News articles, videos, academic works, books, and social media profiles and posts also appear in search engine results.
If your business does something noteworthy, you can receive free publicity by steering the story to third parties. For example, a computer business that contributes its time and products for technology integration in schools can get free online publicity if a news article or blog is written about the contribution. Likewise, "likes" and reposts of a social media post or video about the contribution will increase your online presence. It may even create a trending topic in the crowded online space to differentiate you.
A creative digital marketing agency can find ways to leverage the business's existing practices to garner this kind of free publicity.
Just beware, however, that this can cut both ways. A negative story can also propagate online quickly. To prevent a negative story from running out of control, businesses should consider having a plan in place to monitor its online mentions and respond in an appropriate way. Equally importantly, businesses need a plan for avoiding negative stories, particularly false stories, from gaining traction in the first place.
Digital marketing is not the wave of the future — it is already here. For most small businesses, digital marketing will be essential to competing in an ever-growing marketplace with more competitors and more customers to compete over.
The purpose of digital marketing is to reach potential customers who use the Internet as their primary, or sole, source of information. However, by understanding these consumers and their online habits, a creative digital marketing agency can tailor a digital marketing plan to guide them to your business. Moreover, by engaging those customers in the meaningful ways that digital marketing enables, you may not only gain their business, but also their loyalty.