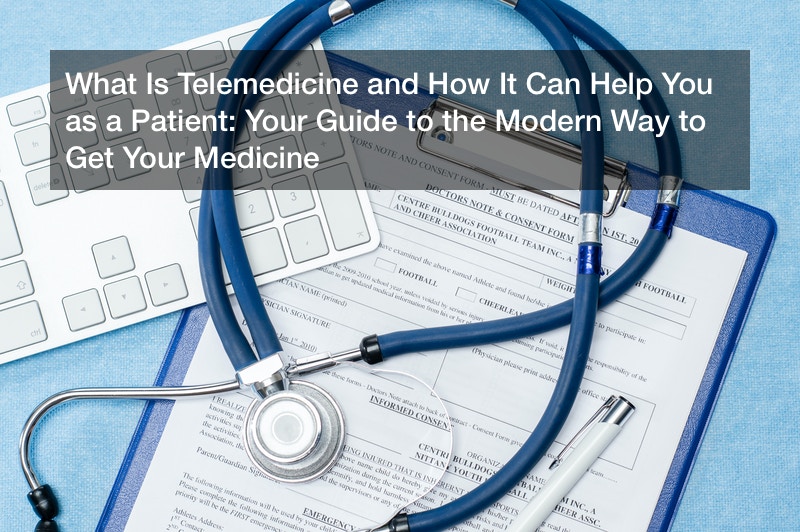 Doctors stopped making housecalls years ago.
But why is this idea so dated when it was convenient for sick individuals? Luckily, now there is an alternative that may be even easier.
When medicine meets the convenience of technology, what do you end up with? Telemedicine, of course! Telemedicine is not a new field, but it has been helping patients receive the care they need rapidly. To learn more about what both telemedicine and teledentistry entail, continue reading.
What Is Telemedicine?
Telemedicine is an alternative to in-person care. It connects qualified doctors and patients by allowing them to use an online platform. This method allows symptoms to be shared and photos to be sent instantly. It also allows concerns to be met in a much faster fashion.
When visiting a new healthcare provider, always ask if they offer this service, as it can make your life significantly easier!
What Are the Benefits of Telemedicine?
There are several advantages of telemedicine in healthcare. For starters, it's quick, easy, and painless. However, if you wish to learn more about the benefits of this modern marvel in the medical field, here's how the process is making healthcare easier again.
It's More Accessible
Not having the proper access to high quality health care is one of the most disheartening things that can happen to a single person or family. One of the advantages of telemedicine in healthcare is that it bridges the gap. You won't have to suffer in silence anymore since it's easier than ever to get answers to your burning healthcare questions, whether you live in a small rural town or a bustling city filled with millions of people.
This form of medicine can even help people who struggle with traveling long distances. The elderly, for example, can benefit greatly thanks to all the advantages of telemedicine in healthcare.
It's More Affordable
Healthcare is not a luxury. It's a basic need and right.
Therefore, find a solution that isn't so out of reach. For example, if you're unsure whether you have a toothache or not, you shouldn't have to fork over hundreds just to get five minutes with a doctor. However, telemedicine communication makes it easier and more affordable to get your time alone with a specialist.
Telemedicine Can Improve the Patient's Relationship With Healthcare
Ask friends and family this question.
Are you afraid of going to the doctor?
You're bound to receive many 'yes' answers. Many people base their opinion on healthcare on their past treatments. If they were ignored or berated, they're likely to feel negative emotions towards the healthcare system. However, one of the advantages of telemedicine in healthcare is its convenience factor.
Since it's so easy to communicate with a doctor, modern technology can help mend these sour opinions and turn them into more positive ones!
You'll Spend Less Time Away From Work
Having to leave work for your doctor's appointment is so inconvenient. Not to mention, leaving work can have a negative impact on your paycheck. Therefore, book a telemedicine call during your lunch break. You can also check in with your doctor right after work — sitting in traffic to get their office is no longer required.
Less Exposure to Other Sick Patients in the Office
Out of all the advantages of telemedicine in healthcare, this one applies to individuals with low immune systems.
Telemedicine is a remarkable way to communicate with your doctor and keep yourself safe from contracting harmful viruses.
Why Is Telemedicine Important Now?
These days, gaining access to see a physician in person is more difficult than ever. They are overworked, meaning that wait times can shoot up astronomically.
Since we are encouraged to stay six feet away from each other, meeting with your doctor at home is also a safer alternative for the average citizen and healthcare employees.
What Fields of Medicine Does Telemedicine Include?
Telemedicine can also include fields like dentistry or psychology! Learn more about the various fields here.
Midwives
If you or someone you know is pregnant, here's some good news. You can converse with your midwife or nurse using telemedicine technology. Being pregnant is difficult enough. Throw in dozens of appointments throughout the week, and its enough to make your head spin. However, being able to check in with your healthcare provider through a webcam can take some of the strain off, so you can enjoy growing your little bundle of joy in peace.
Cutting down on your travel time is also safer for your child.
Get Your Teeth Checked
You can also schedule a consultation with your dentistry office. While this is no substitution for going in person for a physical cleaning, telemedicine is a useful tool if your teeth or gums are feeling sore.
Discover Whether You're a Good Candidate for Braces
Orthodontists play a different role. They are more knowledgeable about corrective surgery of the mouth and jaw. Therefore, if you need orthodontic treatment, or wish to determine whether you're a good candidate for braces or clear aligners, book a session with a mouth surgeon.
You will have to visit their office to get a proper mold of your teeth done, should you decide to utilize clear aligners. However, this is one less step you will need to drive over for!
See Your Ear Doctor
If you hear a constant ringing in your ears — or you're struggling to hear anything at all — book an online consultation with an ear doctor to diagnose your condition.
General Medicine
Seeking stuffy nose and sore throat remedies, but feeling unsure of what your symptoms mean? You can schedule a call with a general practitioner to discover what ailment your symptoms are pointing towards.
See Your Allergen Specialist
If your allergies have gotten worse, what better way to see your doctor than through a screen? No need to step outside of your home and expose yourself to even more airborne allergens and pollen.
Sports Injuries
You may also be able to meet with a physical therapist through video chat. They may suggest a topical pain relief balm or cream to help with muscle soreness.
Treat Your Skin
Whether you're experiencing a bad bout of acne, or an eczema flair-up, going to see a dermatologist is one of the best things you can do for your skin.
Some dermatology clinics offer online consultations so that you can express your concerns through the phone or an online chat.
Mental Illness Is Also Covered by Telemedicine
These advantages of telemedicine in healthcare don't simply extend to people with physical conditions. You can also receive care for your mental illness. Chat with a therapist online. They may also prescribe you the necessary medication you need to keep your anxiety or depression at bay. Telemedicine may also cover these other mental illness.
bipolar disorder
obsessive-compulsive disorder
anorexia nervosa and bulimia
post-traumatic stress disorder
Preparing for Your Telemedicine Consultation
If you are interested in trying telemedicine to diagnose or treat your condition, here's what you need to know about preparing for that first meeting with your healthcare provider.
Check With Your Insurance Provider
First, ensure that your insurance provider can cover the cost of your consultation and treatment.
Gather Your Essential Information Down
Next, you want to write down any information you may need to tell your doctor while on your call. Gather documents or make a list with the following information.
The medications you are currently taking
Your health history: What kinds of symptoms have you been feeling, or what problems have you encountered in the past?
When your symptoms began.
Your allergies to medication.
Your family's health history.
Have Your Questions Ready
Think of your questions beforehand, so you won't forget anything during your call.
Have a Pen and Paper Nearby
You will be bombarded with new information throughout the call with your healthcare provider. You want to be sure you don't miss any key details, so write everything down as soon as you can.
Find a Silent and Well-lit Space to Have Your Video Call
If you are just speaking to your doctor over the phone, do not worry about the well-lit part. Simply find a quiet place in your home away from noisy kids and pets. However, if you're meeting via video chat, ensure there is ample enough lighting in the room so your doctor can see you and your ailment clearly. Dentists, for example, will need a clear view of the mouth to check for diseases and other illnesses.
Commonly Asked Questions About Telemedicine
What Services Fall Under Telemedicine?
One of the greatest advantages of telemedicine in healthcare is that there are various services catered to fit everyone's unique needs. For example, you can set up a video visit with your doctor using your phone, computer, or tablet.
E-visits also fall under telemedicine healthcare. You can message instantly with your healthcare provider through their online platform.
Virtual check-ins are also a lot easier through an online platform too. Often, a quick check-in can last anywhere between five and ten minutes.
Telemedicine services may also include secure emailing. Your confidentiality should remain guarded, even if you choose to receive your healthcare online.
Will Insurance Cover The Cost of Telemedicine
While telemedicine services aren't typically too pricy, you're most likely wondering whether most healthcare services will cover the cost. You're in luck because, due to recent mandates, this service is now covered by most policies!
Does This Replace Urgent Care?
One of the main advantages of telemedicine in healthcare is that it can replace most services you'd receive at the hospital. However, if there is ever an emergency, it's not a complete replacement for an urgent care center. You should still have their number on speed dial in case you need to see a doctor immediately.
For severe accidents and emergencies, always call 9-1-1 for a rapid response.
Can You Visit a Doctor Across State Lines Through a Telemedical Call?
Out of all the advantages of telemedicine in healthcare, this one is great for people who live in areas where quality healthcare is hard to come by.
As of 2020, connecting with a doctor who lives in another state has never been easier.
Is It Safe to Get Your Prescription?
Your doctor can send all of your information to the pharmacy nearest to your home. Therefore, you won't have to skip a beat to get a hold of your medicine.
Conclusion
As you can see, telemedicine is changing lives as it can cover everything from dental care to skin solutions. It's a faster, cost-effective way to receive the healthcare you deserve. Now that you're aware of the advantages of telemedicine in healthcare, inquire about these services at your next appointment with your doctor!