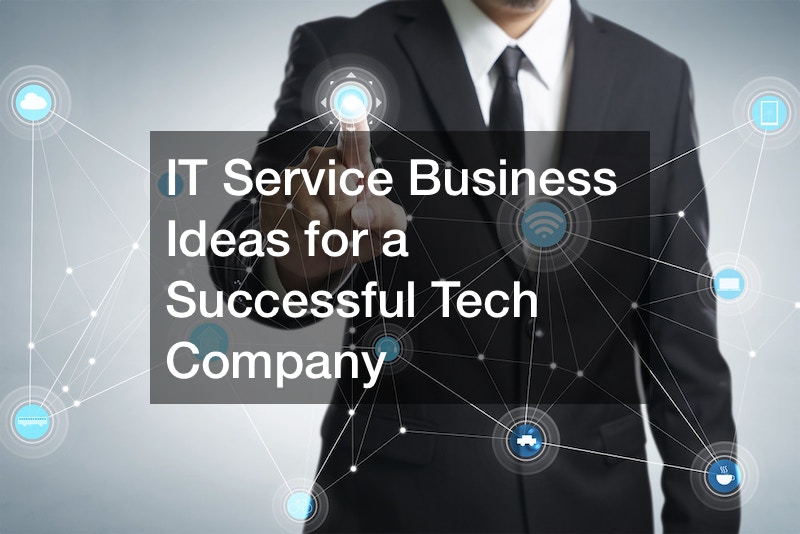 The IT (Information Technology) industry is brimming with opportunities for businesses, they just have to be grabbed and crafted into something awesome. By offering IT services to other businesses, you give them the opportunity to access information and technical tools they won't otherwise have.
With that said, there are many ways to offer IT services, so when you're thinking of starting an IT service company, it can be challenging to choose your focus.
This article aims to guide new entrepreneurs on their journey to becoming successful by giving them as much information as possible. This list of IT service business ideas will help you learn more about what you can do and inspire you to build the best business you can.
Let's dive right in!
Affordable Business Solutions
We kick off our list of IT service business ideas with business solutions that won't cost an arm or a leg. These solutions are often very expensive, so if you can make them affordable, you can get an edge over your competition.
IT business solutions have to help companies achieve their objectives, so you're basically offering them solutions with a focus on IT. It can be anything from technology evaluation services to helping service desks manage their assets.
You can even offer physical solutions such as getting businesses in touch with used equipment dealers so they can save money.
Creating an Image
Since IT is mostly about online services, you may decide to offer to help companies create professional images for their businesses. Whether they wish to use these images to enhance their websites or e-commerce sites or want to use them to create advertisements, using a local professional photographer will be their best bet.
As an IT service business, you can help your clients get in touch with the right photographer for their needs so they get the best possible outcome.
Not only will you be helping your clients, but you will also be giving small photography businesses more work and helping them grow.
Security
Security is actually one of the most popular IT services offered by IT service companies, and you can join in on the fun. Network security is very important since we live in a time when staying safe online is becoming harder and harder.
You can offer electronic security services such as building effective firewalls, installing VPNs (Virtual Private Networks), and providing them with anti-virus software.
But you don't have to stop there. You can also offer physical protection such as commercial glass tint for their building windows and CCTV systems.
Staffing
Another very popular option for IT service business ideas is offering recruitment services. You can become an IT recruiting agency of sorts that helps clients find the right people for the roles they need to fill.
You can help match candidates to the unique culture of the company as well as the specifications they have. Additionally, you can help with a company's management development so it becomes better at problem-solving, teamwork, handling conflict, and motivation.
Your services can also include organizational restructuring and job grading to help the company ensure they're working at maximum potential.
Workplace Efficiency
Although office cleaning companies don't exactly come to mind when you think about the best IT service business ideas and workplace efficiency, it's still a viable option with a lot of potential. After all, a workplace that isn't thoroughly cleaned can't be as efficient and will be uncomfortable to operate in.
You can identify your business as a commercial cleaning company and focus on the commercial industry rather than residential buildings. Your rates can be flat, hourly, monthly, or determined per square foot.
Pushing New Tech
The aim of most IT service companies is to push new tech to improve the ways other companies operate. You can do that as well, by being front and center with the latest innovations and technological developments.
You can offer services that are focused on computers and telecommunication, or you can choose a more physical approach. This will include solar services (teaching companies how to shift to solar and so on), and solar system installation.
Of course, you'll have to actually know what you're talking about, so you and your staff need to be highly knowledgeable on the topic.
Safety of Product
Product safety is about policies that are designed to keep people safe from any risks that are associated with consumer products they use every day. You can offer safety of product services in various ways.
You can sell safety products that are aimed at keeping people safe, such as waterproof covers for their electronics and computers, as well as teach them how to stay safe while doing work-related tasks.
Cloud Services
When it comes to the most popular IT service business ideas, cloud services are close to the top. This kind of service is about providing business teams with various ways to interact with the technology they use.
The 'cloud', as we call it, is an internet-connected platform that stores and accesses different programs and information. That means none of the data is kept on a physical computer, making it easier for all team members to access it as they need to without bothering each other.
Cloud services also help to keep sensitive information away from prying eyes.
Software as a Service
SaaS (Software as a Service) is also one of the most popular IT service business ideas and refers to programs that offer a specific service to clients. Typically, clients will pay a monthly subscription to use the software.
Some of the most well-known SaaS products include Grammarly, Adobe Creative Cloud, and Google Workspace.
However, it can be quite difficult to offer a quality service that works well. You'll have to work hard to design something that people want and need and that is easy to integrate into their current systems and ways of working.
Hardware Installations and Maintenance
Many well-rounded IT service businesses also offer hardware installation, repairs, and maintenance as part of their service packages. If you want to diversify the services you offer, you can add these physical services to your deals.
These services will include installing computers, printers, routers, modems, and hard drives for your clients. You'll also help maintain them and perform repairs of these items if necessary.
It's also a good idea to offer consultation and help companies determine what kind of hardware would work best for their business needs. You'll need IT teams who are well-trained and knowledgeable so they can provide expert assistance to all your clients.
Remote Support
Remote support is also one of the best-known IT service business ideas because it's something that many companies want. It's for this reason that many IT service businesses offer remote technical support.
You can offer such services by troubleshooting your clients' devices (which you can access through the internet) and helping them fix their problems. Remote support is much faster than traditional support and is often preferred by companies because it's so easy and convenient.
Your IT team should be able to repair any technical errors and update applications swiftly and without difficulty for this kind of service to be a profitable one.
Voice over Internet Protocol (VoIP)
VoIP (Voice over Internet Protocol) is a communication tool used by businesses and it makes it easy for teams to send messages and call each other through internet connections rather than standard telephone lines.
VoIP makes long-distance internal communication less complicated for companies and far more affordable. This is why offering VoIP to companies can be one of the best IT service business ideas.
You can require clients to pay monthly or yearly subscriptions and they'll happily pay if your service is secure and reliable.
Monitoring
Offering monitoring as a service is another good option because, in most cases, companies are just too busy to take care of this task themselves. This service involves monitoring clients' networks, computers, internet traffic, and any other internet-enabled devices they use.
Effective monitoring can help IT teams to keep an eye on who accesses the companies' information, see if there are software updates or modifications necessary and whether there are any required technology repairs.
Basically, monitoring as a service will help companies have all the resources and tools they need to complete their tasks and continue operating as a well-oiled business.
Backup Solutions
Running a business isn't easy, and losing all the information and data that has been stored for years can bring any company to its knees. That's why backup solutions as a service are yet another one of the best IT service business ideas.
By having backup solutions, a company can prevent information loss by storing copies of all important data online or on external hardware.
You can offer this kind of service and help companies keep all their information secure and ready to access should they lose it on their side.
Troubleshooting and Technical Support
You can also offer IT services to other companies by providing them with technical support and troubleshooting for their online tools, programs, and software applications. This will involve helping users resolve technical errors that pop up and assisting them in sending devices for repairs if necessary.
You can provide companies with technical assistance that is available 24/7 so they have someone to help them with any challenges or questions when they use their chosen software.
Information Reporting
Another great IT service business idea is doing data monitoring and collection and then using that information to provide companies with detailed reports on their operations. You can create reports on all aspects of the company, such as technology use and information storage, so companies can analyze how effective the services they use really are.
You'll offer this kind of service by giving the companies who hire you software that will streamline reporting and present the information in a way that will help them understand their operations and make crucial business decisions.
Software Development
Software development is a fantastic service to offer companies as it comes with the freedom to create something new for every company that you work with. You can develop software that provides custom solutions to every business's unique needs.
You may be asked to create a software application that organizes and maintains financial records, for example. Or you can create software that stores client information and pulls it up when the marketing team wants to create accurate customer personas.
There really is no limit to the kind of software development you can do if you have a reliable, innovative development team.
Technology Training
Another service you can offer is technology training. You can provide this along with any other services to earn more money. Software and technology are ever-changing, and companies often find it difficult to keep up.
Your team can keep their teams up-to-date and teach them how to use new technology and make the most of it for their companies. Staff can be trained to use specific applications, tools, and programs, and your team could be the ones training them regularly or only as they request your assistance.
Email Services
Email services are usually an additional option that is offered alongside other IT services like software development and information reporting. Businesses rely heavily on email for communication, and offering this service can make things easier and more streamlined for them.
Your IT team can oversee the email accounts of your customers and also give them advice as they need it. Your team may also work with their marketing and sales team if they're using email marketing strategies.
Start a Successful IT Service Business
Now that you know more about all the different services you can offer and have a list of awesome IT service business ideas to encourage you, there is nothing stopping you from starting a successful business of your own. It will take hard work to grow your business, but it's worth it when you know you're growing your company on your own terms and reaping the fruits of your labor!