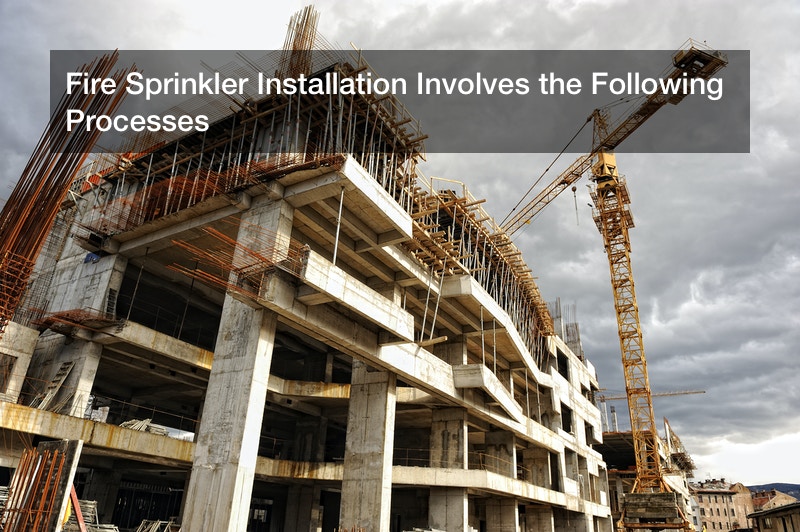 When it comes to ensuring building safety for occupants and assets within, you need to consider different types of fire suppression systems. This means finding a company that provides a host of services such as fire sprinkler system design, installation, as well as maintenance of the systems to ensure they are working properly.
Fire sprinkler design companies can help develop fire suppression systems not only for residential use but also for industrial and commercial applications. A good company will ensure a smooth process from the design stage and installation to system testing with adequate support and adherence to the building codes and the insurance.
Here are the main services offered by fire sprinkler design companies.
Fire Sprinkler Design
When you find a suitable fire sprinkler company the first thing they'll probably get into is the design stage. But to come up with a custom system design they'll first have to start by doing a complete evaluation of existing facilities and develop a plan for the new construction. Fire sprinkler designers will work with relevant authorities and insurance companies to ensure the developed system satisfies all building, safety and construction codes.
From the design stage, the company is able to highlight some of the protective measures it will put in place, show insurance cost projections, materials, budget requirements, and any project concerns. Generally, the team of designers will consult with you to determine a fire sprinkler system layout for your project.
The use of most advanced CAD building systems, commonly used by engineers and architects, helps to develop a consistent and integrated design from the existing construction data. This fast track the project for a timely deadline.
Fire Sprinkler System Installation
A reliable fire sprinkler company will have qualified and experienced field specialists to provide efficient fire protection sprinkler system installation. From the designs, the installation team can start to lay the system while following the best routing as simulated using 3D modeling. Proper installation procedures are used to set up and test the system prior to inspection by insurance underwriters.
Clean system installation is important to minimize disruptions to your activities whether it's in a ceiling in your home, office or an open warehouse. This is made possible by the use of building retrofits, which are essentially designed to speed up the installation process across the facility with much less disruption on the business functions.
Generally, there are several phases during fire sprinkler installations, which are:
Pre-installation meeting is where the team reviews the design, modifications are made, determining installation procedures and materials review.
Delivery of fire sprinkler material This phase sees the delivery of all the materials necessary for the project to a site area.
Layout of the fire suppression system Here, all the individual fire sprinkler components are checked to ensure no particular piece is missing. Some of the components include sprinkler heads, control valves, check valves, hangers, alarms, and more.
Fire sprinkler system installation The phase where actual installation happens and it's done by experienced and certified specialists who uphold highest standards of quality and safety.
Testing the fires sprinkler system The last but important phase of the installation is to test the entire system to detect faults. Hydrostatic testing is conducted and the final inspection is done before handing it over to the owner.
Service and Maintenance
In addition to design and installation, fire sprinkler design companies can also provide regular system inspection and maintenance. This not only ensures optimal system performance but also helps to be within the regulatory compliance and avoid legal issues.
The maintenance process involves checking for system defects such as corrosion, which is a real concern that can compromise the performance and efficiency of fire sprinkler systems. Through inspection, system defects such as corrosion can be easily uncovered and mitigation measures can be quickly deployed. This protects your valuable property, assets and occupants.
Inspections programs offered by fire sprinkler design companies are in accordance with standard fire codes, insurance and manufacturer's requirements, and client's needs. All these are done to ensure optimum system performance from the sprinkler heads to the alarm systems.