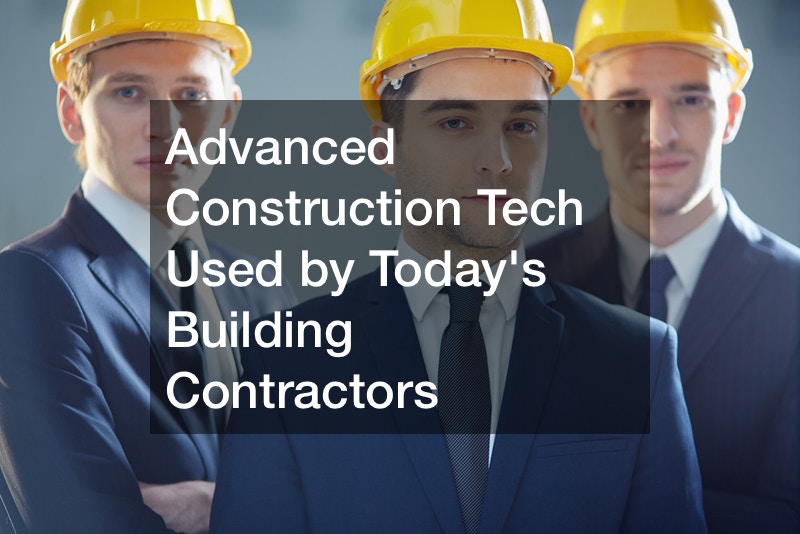 Today's world has experienced significant revolutions over the last few years, courtesy of modern technology and technological innovations. The construction industry has not been left behind in this revolution, with many building contractors embracing technology for various reasons. Nonetheless, not all parties in this vast sector understand some of the best technology to leverage and how such an action can benefit their profession. If you fall under this category, the information below will be resourceful. It will paint a clearer image of some of the top construction tech and give you precise guidance on the benefits you can enjoy from embracing modern technology in your real estate building career.
Artificial Intelligence and Machine Learning
One of the main challenges in a construction project is optimizing a steady workflow, especially when dealing with many employees. Maintaining a steady workflow takes three shapes: transparency, communication, and data. Failure to connect the three aspects can lead to delayed and failed construction projects. Fortunately, artificial intelligence, also known as AI and machine learning significantly contributes to your success in the three aspects.
Such contributions ultimately contribute to higher productivity levels and profits. Machine learning, as one of the best construction tech innovations, helps professionals in the industry to hone their decision-making skills. These professionals can now get a clear glimpse of what they should do when handling different constructions, including residential or commercial property. The predictive analysis provides the best forecast of the future to help you strategize and make more informed decisions about your next moves.
Human Resource Management Software
Handling your workers may be one of the challenging tasks you must undertake as a construction contractor, primarily when running a sizeable project. However, that is a narrative from years ago when innovators did not make any advances in construction tech. Today, you can leverage the different workforce management software available on the market. Effective employee management has several benefits, including preventing unforeseen expenses, optimizing resource allocation, avoiding delays, and keeping smooth operations afloat.
Employee tracking, mobile-first interfaces, and predictions are some of the best workforce management benefits you can get from modern construction tech. It is essential to know your employees' whereabouts at all times, whether the individual is an electrician, a plumber, a roofer, or an expert in AC installations.
The Internet for Research
The construction industry goes through tremendous changes every day. You must know the current trends in this sector for you to succeed as a construction expert. The only way to achieve that is through intense research. The internet has given you that opportunity on a silver platter. Getting online becomes critical when dealing with different clients to help you strategize, understand and satisfy their needs.
Today's market is flooded with different designs for varying constructions. Grasping all these designs and storing them in your human memory can be challenging. This is where the internet comes in as one of the critical construction tech components. You can research what professionals say about designing every part of a building. The roof is an essential part of every building. If that is your specialization, but you feel you have vague ideas about it, you can open a residential or commercial roof company website to get a clear image of the best designs.
Augmented Reality and Virtual Reality
The best way to get excellent construction industry results is by ensuring your clients, team, and employees can access different project data in real-time and in shared spaces. Augmented Reality (AR) and Virtual Reality (VR) are two elements of modern construction tech making waves in the industry. AR and VR contribute so much to immersive reality, which becomes a necessity rather than an addition when dealing with cross-departmental collaborations. Additionally, you and your team access the metaverse, allowing you to get real-life experiences virtually. The construction industry is demanding, especially when getting the right and appropriate equipment.
However, you do not have to face any challenges if you have the right virtual systems in your company. If you do not have the right heavy equipment to handle your projects, you can virtually communicate with the suppliers to decide whether to buy or lease the required pieces. Therefore, you can see how critical construction tech is. VR and AR also assist you in showcasing your work in real-time to clients who may require your services, professionalism, and expertise. Design overlay using AR allows you to get a clearer picture of the project's result.
The Use of Robotics
Using robots in different projects and companies has become the talk of the town today and the best option when considering construction tech. Therefore, do not be surprised when you see some constructors using robots to handle different projects, including tunnel repairs. The main benefits of using robots in construction include saving time and money. These two benefits can significantly increase your production and reduce the time required to complete a project.
Robots are mainly used on construction sites to help lift heavy items and equipment. Additionally, robotics is a preference for many contractors, thanks to their precision and accuracy. Nevertheless, you should know robotics may carry hefty price tags, especially when handling large and complex ones. The good news is you will realize a high return on investment both in the short and long run.
3D Printing
3-dimension construction printing has become a common phenomenon in almost all parts globally. Professionals in this industry prefer these models because they give crystal details of a particular project. Most companies embrace this construction tech because it is faster, cheaper, and more effective than the traditional printing methods. 3D printing helps speed up tasks, make necessary materials easily accessible, and create outstanding designs.
Experts in the building sector have confirmed that every structure can be 3D-printed. However, you must know how much is available, how far you desire to reach, and the project's scalability. You would be mesmerized to learn that you can also use this technique to print different materials, fixtures, and furniture for the project you are working on. This makes 3D printing highly crucial in remote areas. Instead of waiting for the material shipments, you can print them in hours or a few days and keep your construction operations afloat.
The future is bright for 3D printing. Innovators aim to advance this construction tech to ensure it addresses some of the pressing issues in the industry, including tackling human resource shortages, leveraging more revolutionized designs, and enhancing quality control.
Drones
Photography and video recording in the construction industry have become necessities today due to the demand for visual evidence of yet-to-start or ongoing projects. It was challenging for many companies in the construction sector to get the best images some years back before the advancements in the technological world. Some traditional cameras can still take great pictures and record incredible videos, but, in most cases, it is almost impossible to capture all the construction's angles.
Most constructors use drones to survey hard-to-reach places, including bridges and tall structures, such as a cooling tower. These devices have gained popularity because they handle the inspection process faster than a team of humans on the ground. Additionally, you can use the information collected by a drone for project analysis, supervise workers on site, and develop interactive models and 3D topographical maps. Consider taking advantage of these gadgets' ability to take voluminous measurements, one of the most critical undertakings in construction.
Data Gathering Mobile Apps
You may not understand how technology has impacted the construction sector without knowing some of the crucial apps constructors use. Innovators have developed these platforms to make it easier to communicate with everyone involved in the project and enable you to work remotely. Moreover, some apps are designed to help you gather precise, adequate, and high-quality information from the site faster and more effectively.
The good news is that you incur little upfront costs to incorporate this tech in your construction processes and still enjoy its benefits. Some crucial benefits include saved time, little to no data entry mistakes, boosted workflows, efficient communication, and prompt reporting. These are some of the benefits you should not overlook. Communication can be between you and different parties, including suppliers and workers, such as a master welder, asphalt contractors, and others.
Building Information Modeling
Also known as BIM, this is a modern technological trend geared towards enhanced accuracy and precision in the construction processes. BIM is a game-changer, considering the power it gives professional builders to present a project on a highly collaborative platform. Additionally, it helps you and the other parties to stay in touch through the construction process and makes resource management more manageable.
The advancement in this technology has led to the production of 5D building information management. The main benefit of 5D BIM is that it has shorter project cycles, offers a detailed understanding of the project's scope, and boosts productivity among all the individuals involved. Some of the exemplary-performing BMI brands in today's market include Revit, BIMobject, and Autodesk BIM 360. You will realize that most construction companies today aim at getting the highest BMI levels in their attempts to industrialize the sector.
Incredible Benefits of Using Technology in Construction
Saves Time
Undoubtedly, this had to be the first item in this section, considering that saving time is one of the critical objectives you should have to succeed in the construction field. Project owners look for contractors who can finish their job at the set timeline or even earlier. Modern technology in the building industry will help you become one of the most preferred contractors by many project owners.
Cost Efficiency
Besides saving you time, construction tech can save you significant amounts of money in the short and long-run. Using modern technology means you will need less human resources. In such cases, you will be saving the money you would have otherwise spent on paying your workers. Nonetheless, you must also understand that the technological gadgets, devices, software, and equipment you use in your projects require regular inspection and maintenance.
Accuracy and Precision
A well-constructed structure must have all the laid-out dimensions with absolute accuracy and precision. Sometimes, getting the measurements may be too tricky for a human hand, making it necessary to turn your focus to modern technology. Construction technology devices and gadgets are designed to give precise and accurate measurements. Getting such dimensions is critical because minor errors can lead to significant losses now or later. For instance, a drone can precisely locate waterproofing issues in a structure to help you develop a solution before they worsen.
Reliable Data Storage
Gone are the days when construction companies' offices will be filled with paperwork showing the projects they have handled, future undertakings, budgets, and human resource records. Today, you can access all that on the go, thanks to the advancements in modern technology. Cloud computing has enabled many building contractors to save substantial data volumes on different devices, including computers, laptops, smartphones, and tablets. Additionally, cloud data is easy to retrieve whenever a need arises, saving you significant time that you can invest in other crucial tasks.
Enhanced Professionalism
The treatment and the perception that clients have towards a construction company that uses modern technology is different from how they perceive one that uses traditional methods. This is one of the factors showing you are professional in your work. Professionalism directly links to a better reputation in the industry. You can expect your company to expand once you create an outstanding and reputable name.
The construction industry is broad, with different contractors handling varying project types. One of the significant considerations these professionals make is integrating modern technology into their tasks. It may be challenging to understand some of the best technology to leverage. Luckily, the information in this article gives you clear guidance on what you should think of incorporating into your company. Nonetheless, you must consider some factors, such as the cost, ease of use, and practicability, to ensure the technology you integrate into your projects is practical and resourceful.