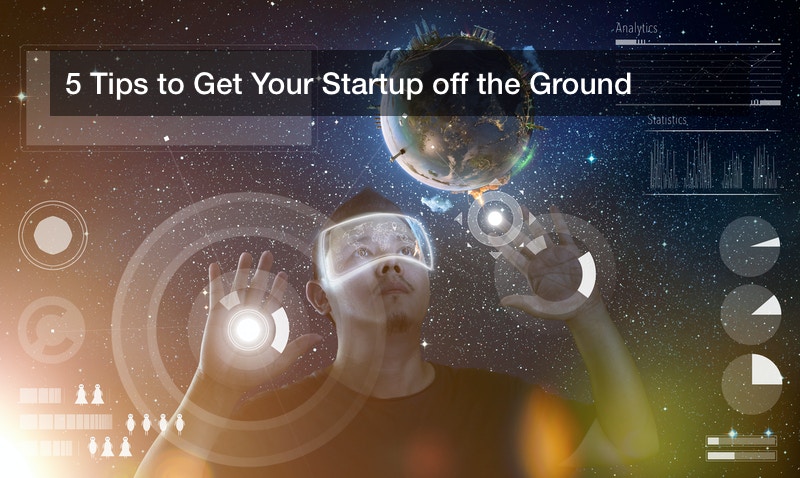 There are many aspiring entrepreneurs just like you who have great ideas for a product or service. But many people fail to put their ideas into action.
Approximately 80% of startups fail within the first year. It is, therefore, understandable that many entrepreneurs are reluctant to start their own business.
Even though many startups fail, there are those that go-ahead to achieve great success. You can get your business off the ground, too, if you plan carefully and uphold your commitment. According to a study by Statistic Brain, the following are some of the reasons for failure:
Lack of commitment, passion, and motivation.
Cash flow problems or raising too much money too soon.
Lack of specialization in a critical field such as marketing, accounting, or technology.
Unwillingness to learn due to pride or stubbornness.
Now that we have determined the issues that can act as stumbling blocks to starting your business, let's look at how to get it off the ground.
Taking the First Steps
The best way to avoid procrastination is to take a significant first step. According to the Zeigarnik effect, we tend to complete what we start. Once you've set things in motion a major way, your psyche will have a propensity to continue with the plan.
Do not underestimate those early baby steps. For a great start, ensure you observe the following:
Understand your Field
You must understand your venture's field of business. Sometimes startups fail due to a poor business model, unrealistic pricing, lack of legal advice, and little to no market need for your products.
You should, therefore, research the field of business you are getting into thoroughly. You may check what other startups are doing to get a feel of what they offer customers.
Passion and Commitment
Successful entrepreneurs have a lot of passion. Their drive inspires others in the organization to follow their lead. It also sustains their focus so that they can get through the more difficult stages of their business. Whatever field you choose, be sure that you would enjoy taking on the challenge on any given day.
Have a Business Plan
A business plan can double your chances of getting funding. Get your numbers right and show that you understand the business. With a business plan, you can get ideas for the kind of financial support you can exploit. Whether that is payroll funding or loans from traditional lending institutions, you can push your business forward.
Even if you already have access to capital, a business plan helps you understand the strength and weaknesses of your startup. Will you be using a portable office, rentals, or your premises? With all the information at hand, you can make adjustments whenever necessary. You will be in a better position to steer your ship when you encounter the inevitable storms in the future.
Exploring Funding Options
Studies show that one of the shortcomings of business failure is the lack of adequate capital. If you don't have the funds, there are several options you could explore.
Traditional Bank Loans: They usually require security from the business. The benefit of taking a loan is that it has a fairly low-interest rate when you compare it to other options. Unfortunately, most startups do not have assets that can be taken as collateral.
Unsecured Bank Loans: If you don't have assets, you can still access unsecured loans. The loans are based on your current credit score. The disadvantage is that it can ruin your credit if you fail to pay on time. It can also have high-interest rates, which may eat into your profits.
Venture Capital: Venture capitalist firms are investors who are willing to fund fast-growing startups, with a fairly low-risk of failure. They take pitches from entrepreneurs to determine the viability of the idea. They usually expect to recoup their investments within three years. However, they can give millions of dollars in funding should they determine your venture is feasible.
Angel Investors: They are individuals with a lot of money who are keen to invest in viable business ideas. They also receive proposals then vet them through their network of professionals. The advantage of using angel investors is that you can tap into their knowledge and expertise. One drawback is that they usually invest small amounts of money, usually from $10,000 to $50,000. But there are major companies such as Uber that have raised millions of dollars through the system.
Payroll Funding: Invoice factoring can address outstanding cash flow problems. Startups can exchange their invoices for a percentage of their value upfront. It can help fill capital gaps you may encounter in your day to day running of the business.
Self-funding/Personal Savings: Sometimes, startups find it hard to access funding options. Many investors want a business that is already running and can demonstrate its viability. Personal savings can help you start a business and gain traction that may be crucial in convincing investors.
Develop a Sound Marketing Strategy
One of the skills that every entrepreneur should have is marketing. Marketing, in theory, encompasses the entire organization. It is, therefore, critical regardless of the type of business you want to start.
Many businesses have great ideas, but they are not selling their products as they ought to. A marketing strategy will help you develop a sound business model. Since there is stiff competition from other startups, understanding the market thoroughly could help you position your brand for success.
You should research and create a marketing plan, even before you finalize your business plan or seek web design services for your website.
Tips for Developing a Marketing Strategy
Once you've found an idea that addresses gaps in the market, you can then narrow down the details by deepening the market research. The purpose of market analysis is to determine the feasibility of your business. You can weigh sentiments about your products by listening to your competitor's social media channels.
Remember, products fall under different segmentations within the same market. You ought to have a clear understanding of your merchandise's specific segment. Read articles, blogs, and news reports about companies in the same category.
Find out as much as you can about trends, regulations, worker compensation, upcoming startups, and anything you can about your industry. Take your time to research. Luckily, you can find most of the information you want by doing an internet search from the comfort of your home or office. However, be sure to check your sources, to ensure the information you are using is reliable.
You may also map out your competition by reviewing their blogs and social media feedback. That way, you can see the business through the eyes of the competition. You will be in a better position to understand your prospect's perspective of your product or service offering.
Work closely with your sales team to develop a winning market strategy. Multiple points of view from staff that have engaged clients can help you come up with accurate positioning of your products or service. You ought to continuously improve your messaging, to get to the heart of your consumers.
Promoting your business is crucial at these early stages. Get the best writers to come up with a sales copy that will pique the interest of your prospects. You should not only have a digital presence with a website and social media, but you also need quality graphics. Hire commercial graphics and signage professionals so that you can spruce up your image on digital platforms.
Building a Customer Base
Building a customer base is one big challenge you'll have to overcome during the early stages of your business. You will need traction to sustain your venture over the long-term. But it can seem like an uphill task, and you may be asking yourself the following questions:
Where and how can I get the attention of my prospects?
What is the best way to demonstrate the value of the solution I'm offering?
Are there methods I can use that do not require a lot of time and resources?
How do I retain my customers?
The answers may vary significantly, depending on the industry or even the market segment of your products. You can understand those questions by utilizing the classic model of the customer's life cycle.
Discovery
At the earliest stages of your business, your customers are at the discovery phase. They have some information about your product or service. At this stage, you should focus on creating more awareness for your brand. Your aim is not really to sell but to drive leads to your website.
Provide free information or products to showcase your solutions. Are you planning to sell courses? You can give out a chapter or two of your books or video courses for free. You may take the opportunity to capture your prospect's emails and contact information in exchange for the products you are giving away. Your email list could prove indispensable when you need to launch a new product.
Education
At the education phase, your prospects are looking for more information to try and make a decision about your business. Your aim is to generate leads, which you can do by paying attention to your customer's concerns.
Offer more detailed content for customers at this stage to ensure they have all the information they need. You may prepare videos, graphics, and reports after reviewing your customer's queries to establish their pain points.
Conversion
At this stage, the prospect is ready to make a purchase. Hire writers to come up with a sales copy that can convert customers. Pay attention to details, since your customer is at the very last stage of buying your product. You may also seek out commercial graphics and signage services to ensure your website looks professional.
Advocacy and Follow-up
After making the purchase, you want your customers to have a positive image of your business. That way, they will not only come back for more, but they are more likely to spread the word to colleagues and friends.
You can use follow-up emails or give out coupons and discounts to keep your clients engaged. Once you have enough customers on your platform, you can use the information to make improvements and capture more leads. Learn to make good use of metrics from social media and your email lists to perfect your brand and service.
Anticipate Problems
Now that your startup is off the ground, the challenge is to keep it running. That means being prepared for any eventualities. You will face hurdles along the way. There will be new technologies, changes in regulations, unexpected moves made by competitors, or even conflicts in the workplace that will require your personal attention.
It would help if you can anticipate problems so that you can address them on time. The following are some important factors that startups often overlook.
Having a Digital Presence: Today, most businesses need a website. Many consumers are making purchases online, even if they will still walk into a retail outlet. Your website can be a great resource for getting information about customers and promoting your products and services.
Insurance: If you overlook getting a policy cover for your business, it could end up being costly down the line. You may have to get workers compensation and insurance for your business premises. Be sure to research all the licensing and regulatory requirements for your industry.
Surrounding Yourself with the Right People: The journey ahead may prove to be challenging, but you must keep on pushing. Having a mentor can help you stay motivated and avoid major pitfalls along the way. It should be someone who has experience running a similar business. Take advantage of networking opportunities and exchange information with other peers in the same industry.
Safe: Any startup that will either be handling cash, sensitive documents, or any other valuables requires safes for business. These are specially made to ensure that in case of a burglary, fire, or any other eventuality, the valuables have a better chance of remaining safe.
In Conclusion
Starting a business can be challenging, but the journey can also be as exciting as the destination. Start a venture you are passionate about and do a lot of research on marketing, employee treatment, and analysis of your industry. Remember to focus on what you can control. Always uphold your integrity and commitment throughout the journey.